February Devlog: More Abilities + Level Content
Welcome to our Helms of Fury devlog for February! This month we focused on adding more content to the game; more abilities, more rooms, and more things to find, discover and interact with during each run.
More Abilities
Our Mecha Knight has bombs, turrets and gadgets they can find and use during each run, and these all seem like fun abilities to use with.. fire! So we spent some time designing fire we thought fit our art style, then created new abilities that use it. Here's a preview of one of them, which creates a wall of fire that burns and slows enemies who try to pass through it!
Level Content
One of our goals with Helms of Fury is to try and provide a lot of different content with our level design, so we've been working on some break rooms this month. These rooms are meant to give you a breather between all the fast combat, and offer you something a bit different to see and do. These could be trap rooms you have to make your way across, challenge rooms offering a reward, rooms that teach you a bit of lore about the game world, scenic rooms, shops and much more!
Here's one of the rooms we worked on this month meant to be a bit more chill: a park in the forest, with some birds, benches and a pond in the middle.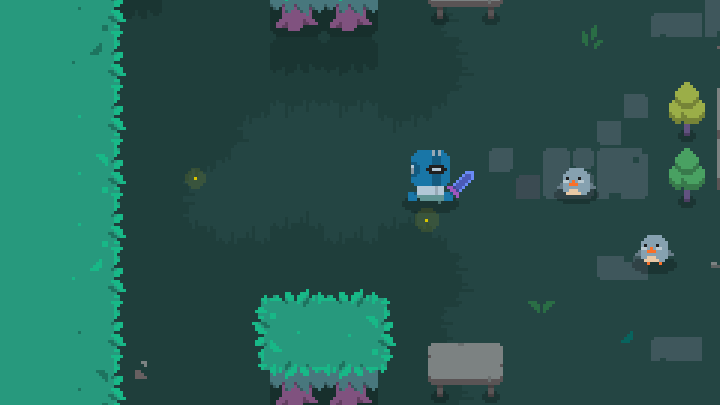 Kickstarter Rewards
This week we will begin contacting people who choose the Kickstarter Design Rewards to create Items, Runes, and NPCs for Helms of Fury! We are excited to see what you will create, and want to start fleshing out some of the ideas to make sure they can work in the game! Our goal is to work on a few of these each month, with the hope that we can include a good chunk of them in our upcoming beta.
Thats all for this update, cya next month! =)